2011-11-18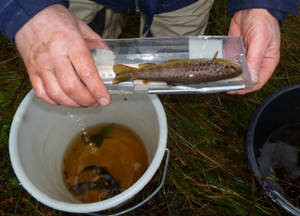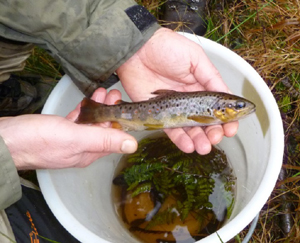 Electro-fishing for stock analysis of trout in a small creek down in Hylte.
2011-10-26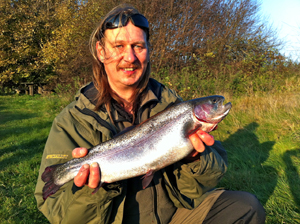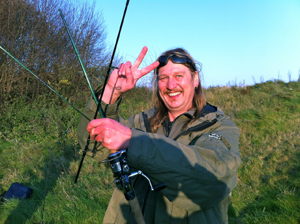 Is it stormy, it is... and you may fish what is offered ... in this case a rainbow trout ...
... why the rod looks like it is doing is an entire different story and not an issue to discuss here ...:-)
2011-10-05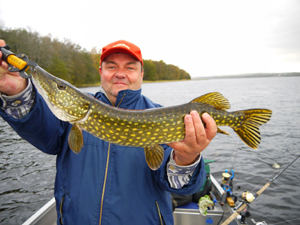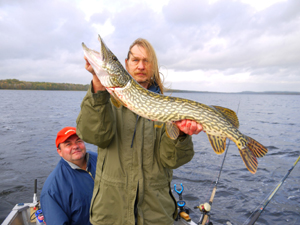 Some "little ones" when our Polish reseller was out for a short trip.
2011-08-28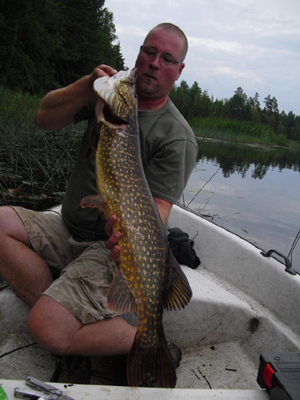 Mr Hamp with a pike (98 cm) from the river Jälmån.
2011-08-26 Monitoring net fishing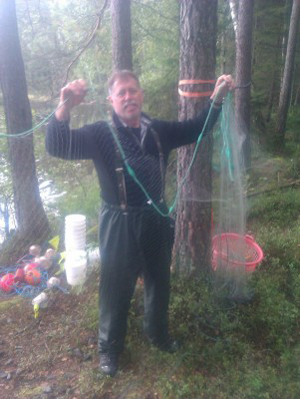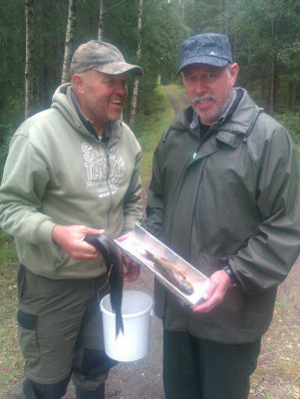 Sometimes our guests be a part of our research work!
Dieter and Peter removes the fish from the net and measuring the catch.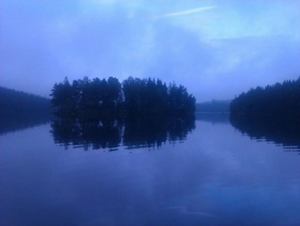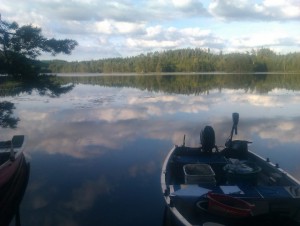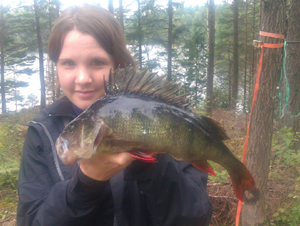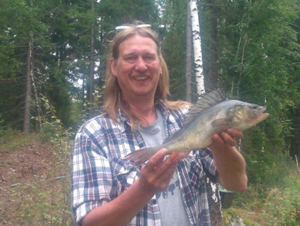 Agnes and Sassi with some nice perch.
The net fishing is included in the monitoring of liming measures.
2011-08-19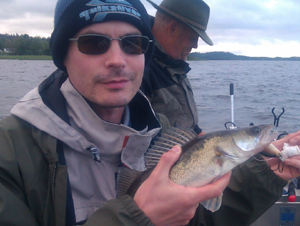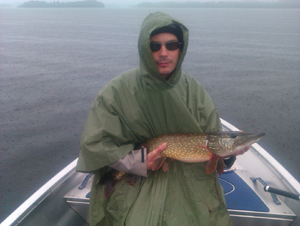 Eric from Goadeloupe with his life's first pike-perch and pike.
2011-08-12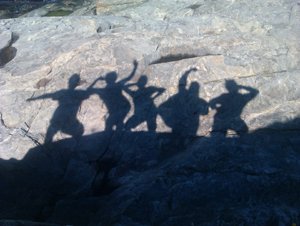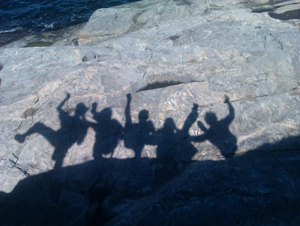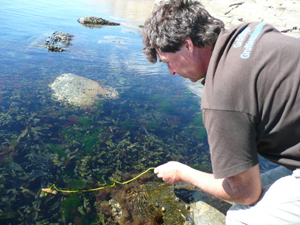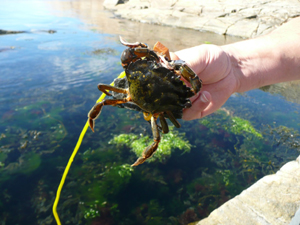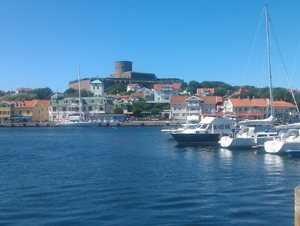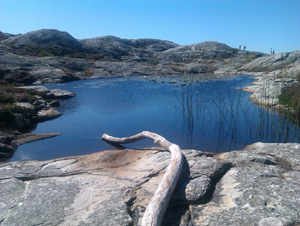 If you think we are only out fishing, it is not so.
Today we are on a day trip to Marstrand outside Göteborg.
Just a little fishing... for crabs!
2011-07-29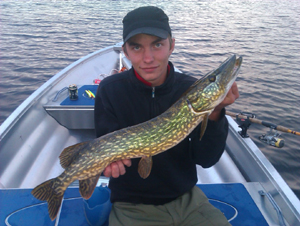 Johan, so pleased...check out the pike colors ... nice!
2011-07-25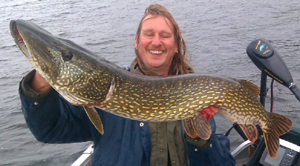 Here we go...now we are talking...111 cm.
2011-07-19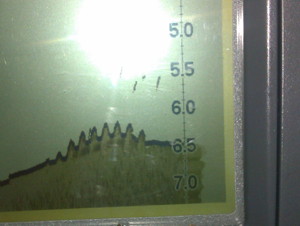 Strange things there are in the Lake Viaredssjö...
2011-07-03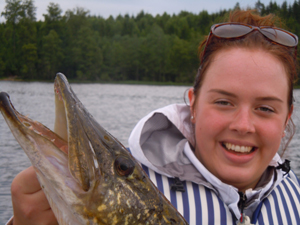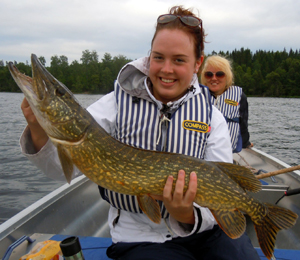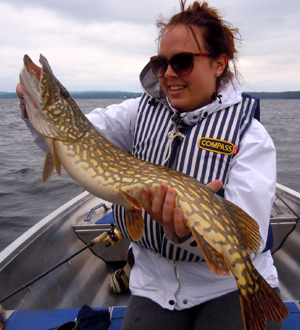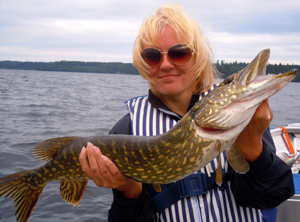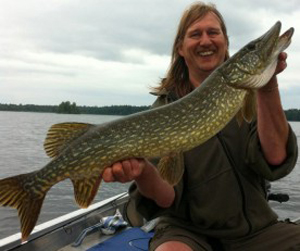 What do you do when you do not know what to do?
You bring Manda and Sussanne and draw some pikes!
2011-07-01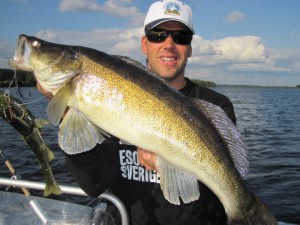 Chris trolling pike-perches in the middle of the summer.
2011-06-19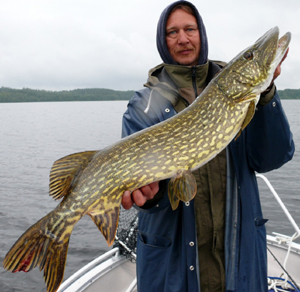 Numero 2: 102 cm!
2011-06-18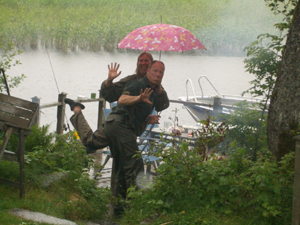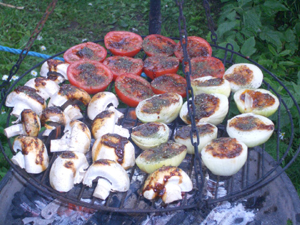 Barbequing at any price ... if it rains or not!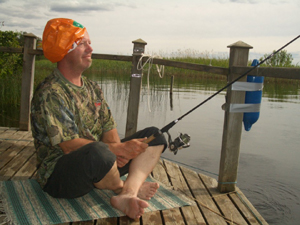 Perhaps it is like this if you succeed or not ... :-)
2011-06-13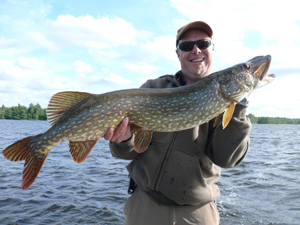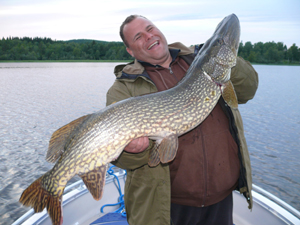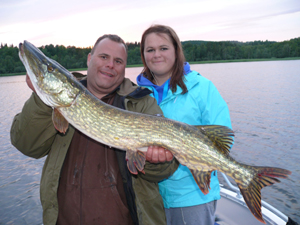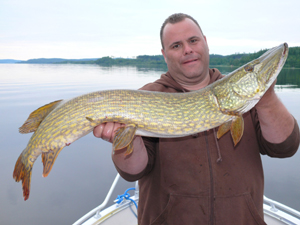 Stefan and Uwe visited us with their families during the summer.
Believe it or not, but even then they looked at some lovely ladies!
GONE FISHING 2011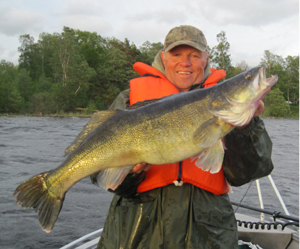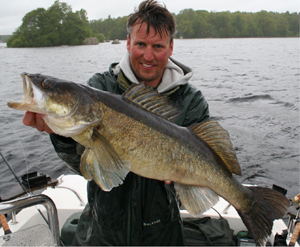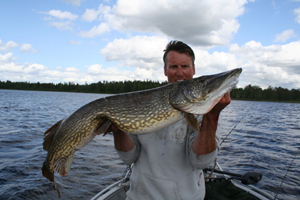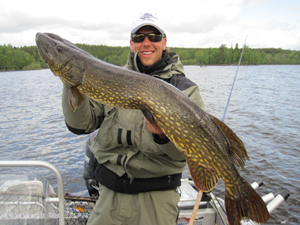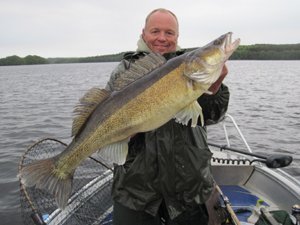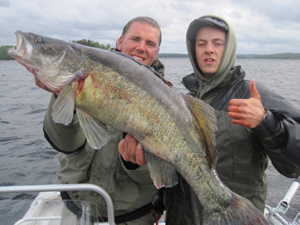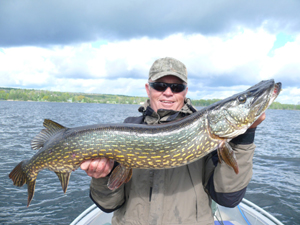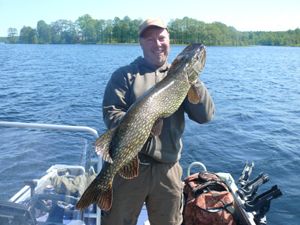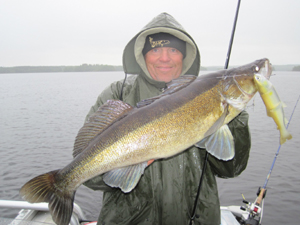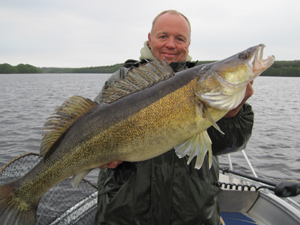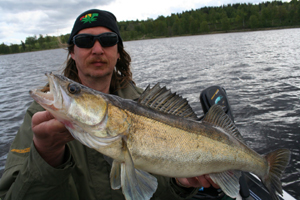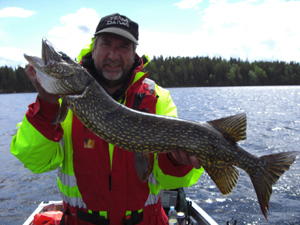 Heavens ... what happened this year then??? Besides all the lovely pikes we also got such big pike-perches in a way
that we never thought was true! The largest pike this year was 118 cm and the largest pike-perch 98 cm!
Participants at this year's tour, from left: Dieter, Günther, Sassi, Stefan, Chris and Dirk.
Click on the image above to get to the Tour's "backstage".
2011-05-04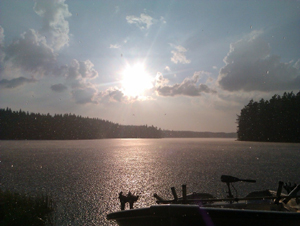 Yes ... as mentioned, fine views, there are plenty of here!
2011-05-03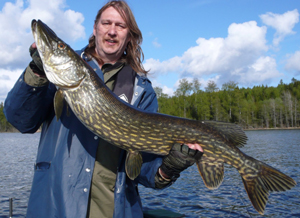 Finally! The first over a meter and she was 105 cm.
2011-03-09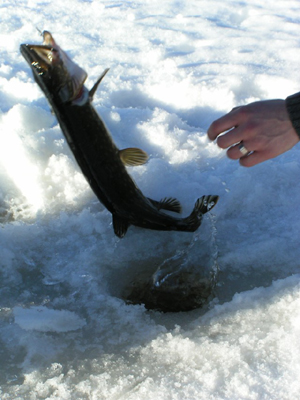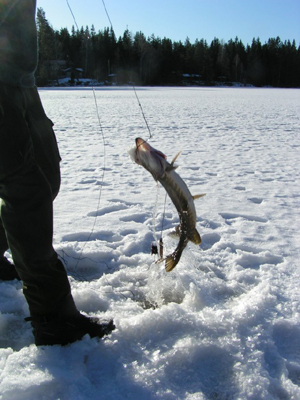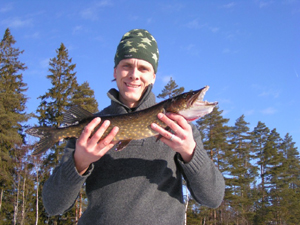 Again, you can follow an annual tradition when the "Kärnåsen"-gang" is out on the ice.
Click on the pic above to see the slideshow ...
2011-03-01 Fire & Ice Tour 2011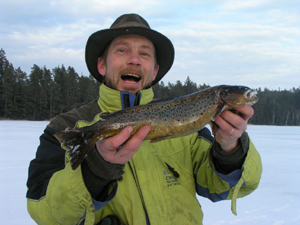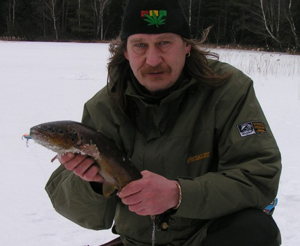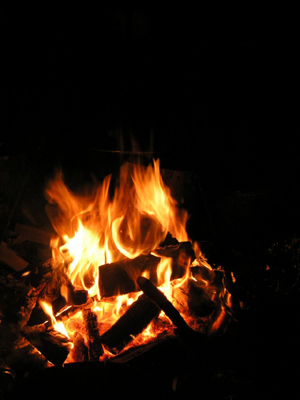 Annually moves 10 guys out into the winter landscape to hike and build a winter camp.
This year's tour also gave some nice trout. Click on the image above to get a little
insight into what happens during the 4 days we are out.
2010-10-08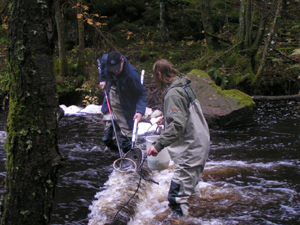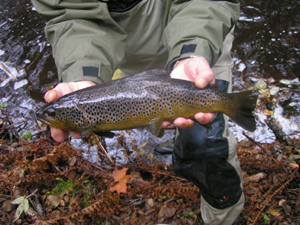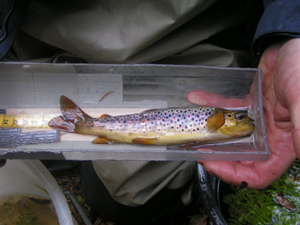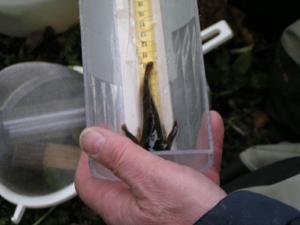 From time to time, we are also working with different fish conservation missions. Here we were in the river
Sämån for electrofishing and compare of the brown trout insertion has given some results.
The largest brown trout we got was at 40 cm.
2010-08-05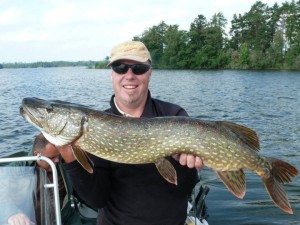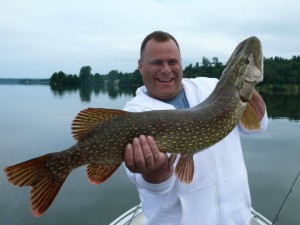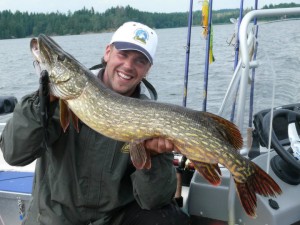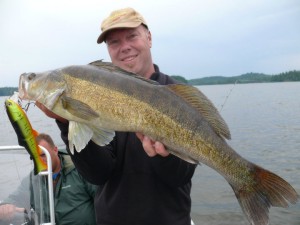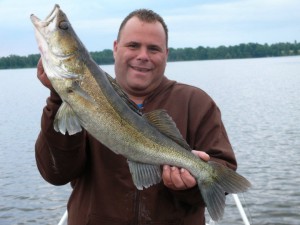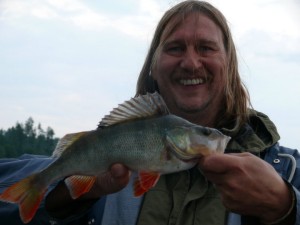 Upper left: Stefan, 100 cm exactly.
Upper right: Uwe with his first ever pike ... 102 cm!!!
Middle left: Chris, 102 cm.
Middle right: Stefan, nice pike-perch at 76 cm and 3.8 kg.
Bottom left: And so Uwe's first pike-perch at 69 cm.
Bottom right: Sassi had to settle with a little perch ...
2010-07-19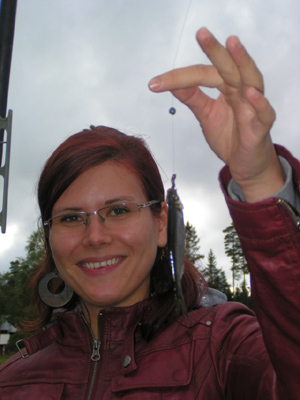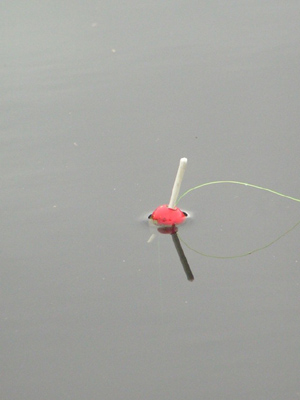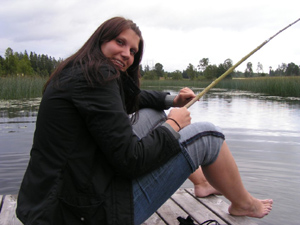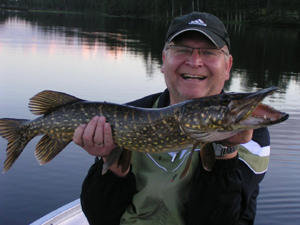 The picture top left: It is not always the size counts, Andrea is just as happy anyway!
Some enjoy just to sit with the fishing rod so as Laura from Berlin.
And Uwe from Rehna of northern Germany is so glad about his 85 cm pike.
2010-07-15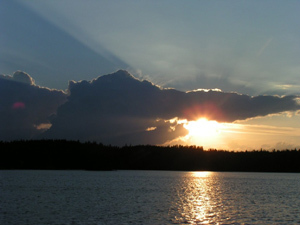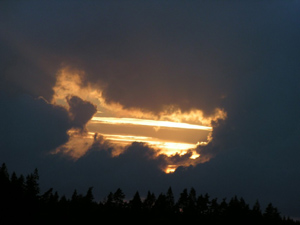 Sometimes you have to enjoy those views at the lake Gesebolssjön in Bollebygd.
2010-06-28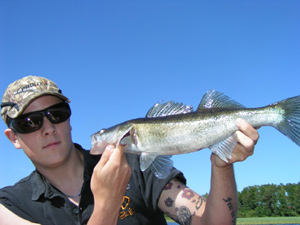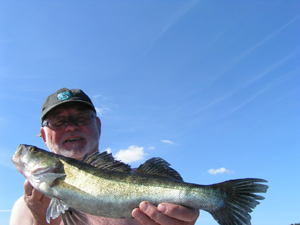 Enar and Linus with two pike-perches from the lake Åsunden when testing vertical fishing.
2010-06-07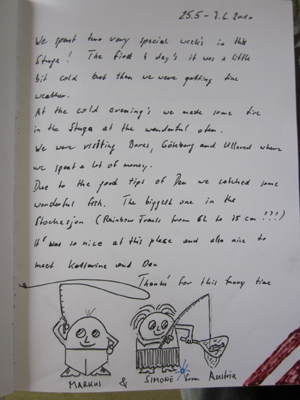 Nice note in one of our guest books - thanks!
13-23 maj 2010 GONE FISHING 2010 Tour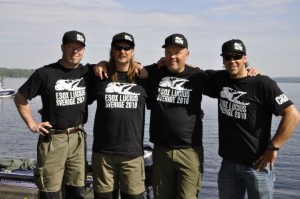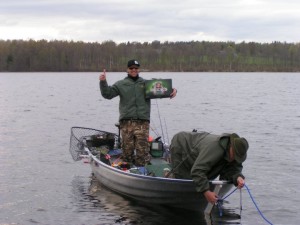 Stefan, Sassi, Dieter and Chris at the Gone Fishing Tour 2010 in Sjuhärad.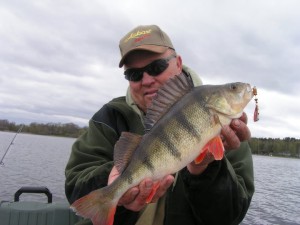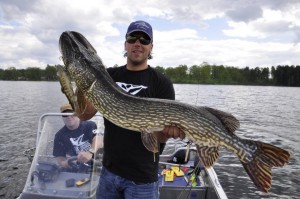 Dieter with a nice catch, a perch of 40 cm and Chris with the Tour's greatest lady of 118 cm.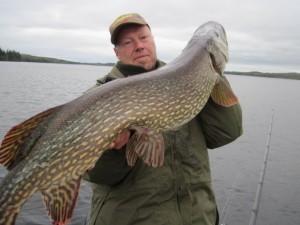 Click on the image above to see some of the great pikes caught during the Tour.
2009-12-03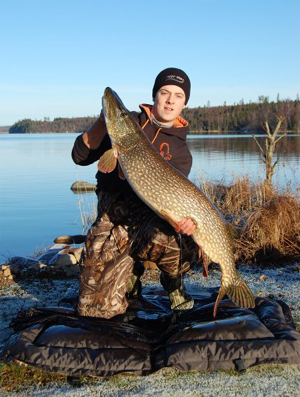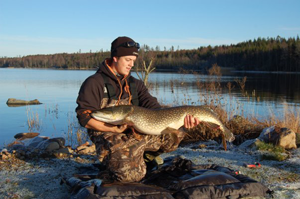 Linus Lindkvist from Svenljunga with a nice lady 12,1 kg and 118 cm long.
2009-10-04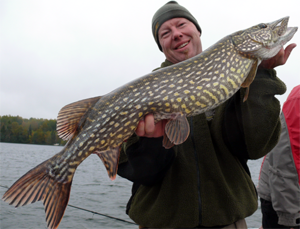 Stefan from Germany on a short short autumn trip to Sweden.
And as usual, some nice pikes this time, too!
2009-09-16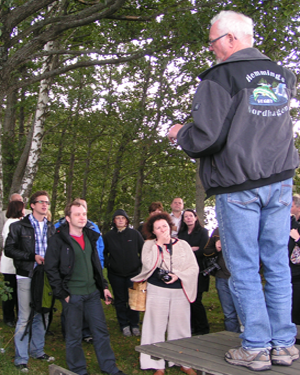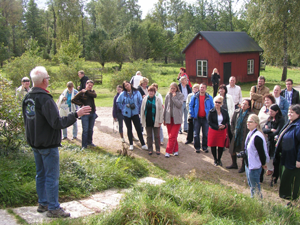 One fine day in September, a bus arrived from Estonia, loaded
with 40 people working with rural development. Fishing guide
Enar Hemmings told with empathy about Marknadsplats 7-Härad.
2009-08-08 - 2009-08-22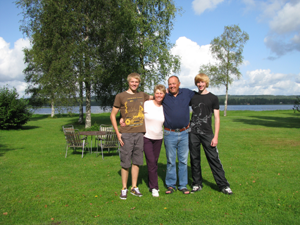 The whole family Maurer from Sersheim, Germany spending their
summer holidays att Nordhagen Fishing Camp.
Click on the image
to see the slideshow showing some of their experiences!.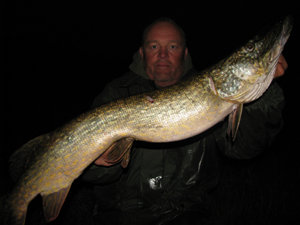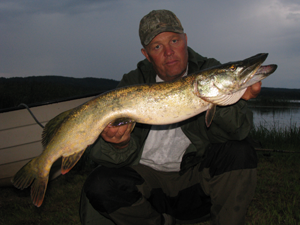 Dieter again - with a pike 101 cm (left) and one at 98 cm (right).
2009-06-27 - 2009-07-11
Summer of 2009, Chris with his partner Evy on holiday in Sjuhärad
- and what is he doing? Lurks up 3 big pike at 111, 116 and 106 cm.
Click on the image to see the slideshow.
2009-05-14 - 2009-05-24 GONE FISHING 2009 TOUR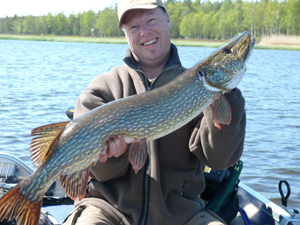 10 days "hard core fishing"(out at 07.00, back when it was dark)
with the Askari gang. During these 10 days were caught at least
500 pikes, of which 9 pieces over the meter!
Click on the image to
see a selection of the fine specimens
(all C & R of course).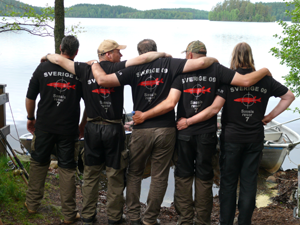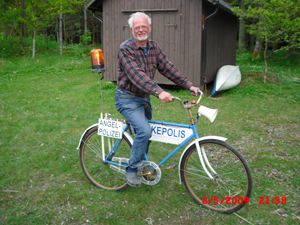 "The big five" - expectant looking out over one of the lakes to
"plow through" during the 10 days in May. But when we arrived at
the lake Åsunden the fishing police Enar Hemmings was already
waiting upon us ...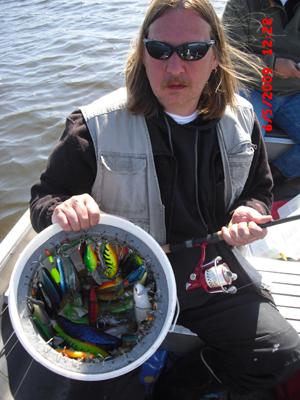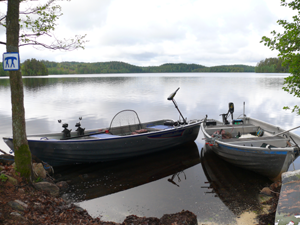 A little insight into the equipment used in the "Gone FISHING 2009 Tour".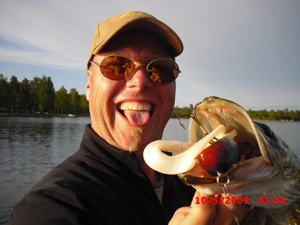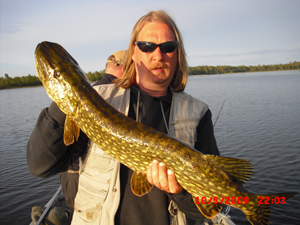 To the left, Stefan Dast, Askari, Germany who got bite on almost
everything he threw in the water. To the right Sassi Wemmer, tour
operator from Sassis Resor 7-Härad - even he had his part in the
Tour. We will return to the GONE FISHING 2010 Tour!
2009-05-16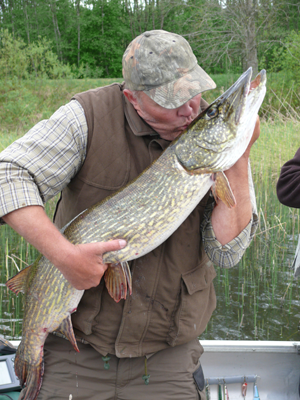 Click on the picture to see a slideshow on how to release a big pike
.
Catch and release
is a practice within recreational fishing
intended as a technique of conservation. After capture, the fish
are unhooked and returned to the water before experiencing
serious exhaustion or injury. Using barbless hooks, it is often
possible to release the fish without removing it from the water.
2009-05-02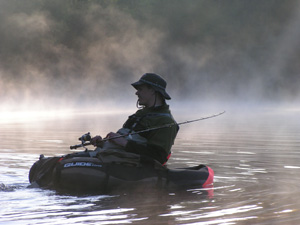 Click on the image to see a slideshow of the float-tube fishing.
Once again the "Kärnåsen Gang" (Sassi Wemmer, Dag Zeller,
Mikael Bernlo and Anders Sjölander) took a fishing tour. This
time, the target was a small lake in Hultafors, explored with the
float-tubes. About 20 smaller pikes were catched (C&R) during
the morning trip.
2009-04-26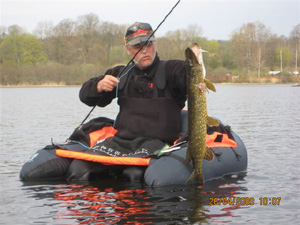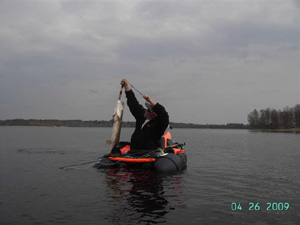 Some nice pikes catched (C&R) by Claes Bellini during a float-tube trip.
2009-04-25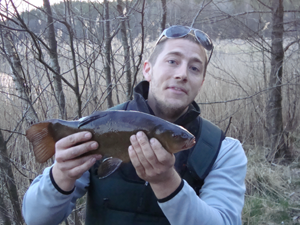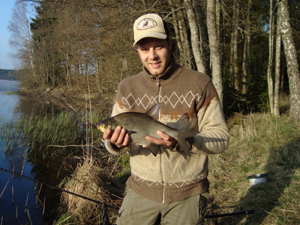 Henrik and Håkan on a coarse fishing weekend at lake Simmesjön.
Henrik with a tench weighing 1.3 kg caught with a "cocktail" of
worm & maize. Håkan with a bream of 0.8 kg.
Henry's report:
"Just want to report that the weekend's fishing ended with 4
landed tench (the others at about 0,85-0,95 kg), a couple of fine
bream, some small roach and pikes, both on spinning and angling
(all C & R). And as a bonus a nice tan. Everything has been great,
cottage, lake, guide Pär had done everything very well and was
with us over the weekend, really pleased with everything".
2009-03-14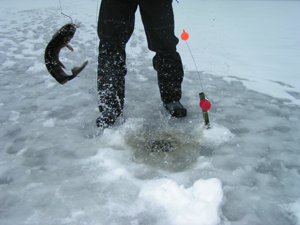 Click on the image to see a slideshow
when the "Kärnåsenvägen
Fishing Team" Dag Zeller, Sassi Wemmer, Mikael Bernlo and
Anders Sjölander are on an ice fishing adventure.
2009-03-06 - 2009-03-08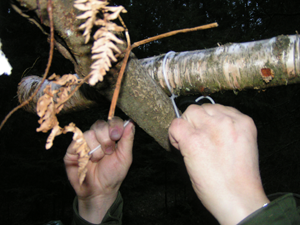 During 3 days 10 "lads" were in the forest around Hyssna on a
winter camp. 50 km hikeing, building tent huts in 2 places,
building a sauna and spa, large fires, bathing in a hole in the
ice, cooking good food ... after those days you felt every
single muscle in your body.
Click on the image above to see
how the construction of the hut was.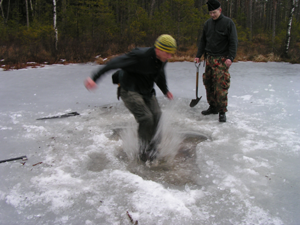 "Fire & Ice" - 2 elements playing a major role in the winter camp.
Click on the image to see the slideshow.
2008-08-23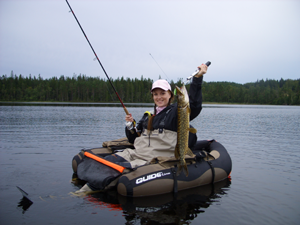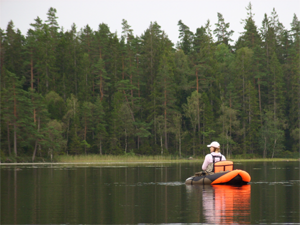 For the first time in her life Anna from Söderköping was fishing from a float-tube.
She got a bite immediately of a pike (C&R) in the Lake Lillesjö.
Thank you Henrik (fishing guide) for a wonderful experience she proudly let us know!
2008-08-02 - 2008-08-16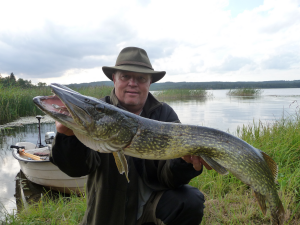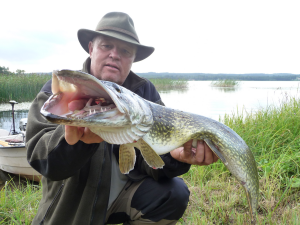 Even Dieter Maurer, Sersheim, Germany couldn't give a miss sneaking back to Sjuhärad.
A pike 96 cm caught in Lake Åsunden.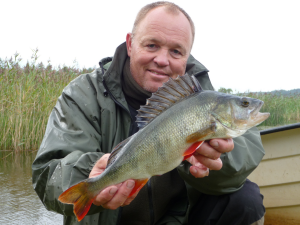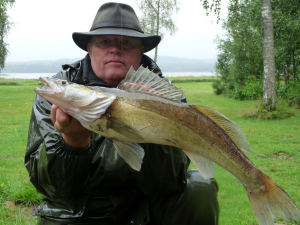 A perch, 43 cm, 1,2 kg and a pike-perch, 70 cm, were
some of Dieters catches in the Lake Åsunden.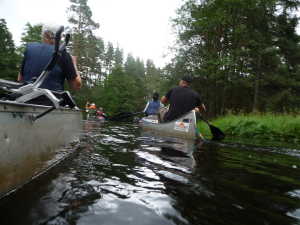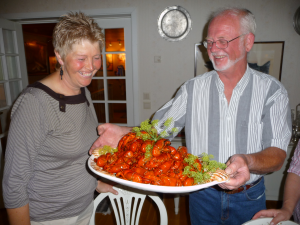 Fishing is not everything…there was time for a canoeing tour on the river Jälmån
as well as a crayfish party at the fishing guide Enars' house. The crayfishes were
fished the day before in the Lake Yttre Åsunden.
2008-08-08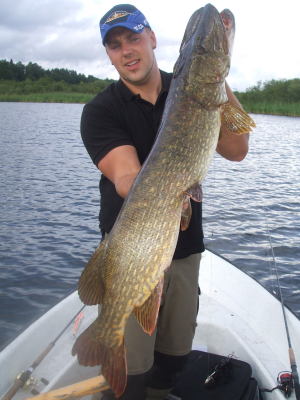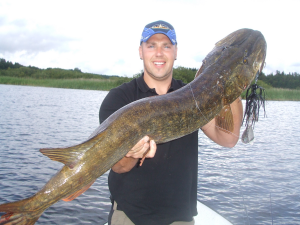 "Chris the Jerk" Schneider, Stuttgart, Germany is back in Sjuhärad with firmness!
This time a pike (C&R) with 121 cm!!!
2008-05-08 – 2008-05-12
4 days in the beginning of May, 25 degrees, 17 degrees
in the water, blue sky, burning sun and a light windy blow
from south-east. These were the conditions when the
three German test fishermen Stefan Dast, Chris Schneider
and Dieter Maurer from the leading mail order company
for sport fishing equipment "Askari" decided to have a
little closer look to our pikes in Sjuhärad. Don't hesitate
to visit the homepage from Askari
here
.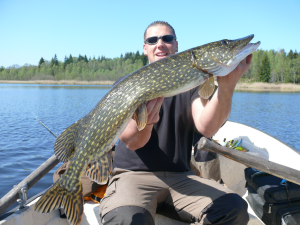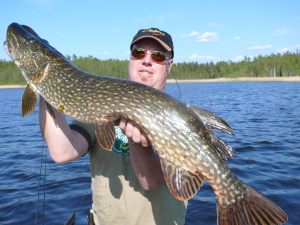 Day 1, lake 1: Chris got the fist pike over one meter. Neither Stephan needed to "work" for a long time before
landing the first "meter-pike".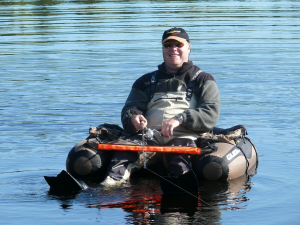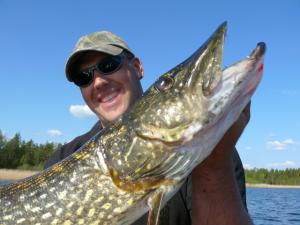 Day 2: Float-tube fishing and some more big pikes…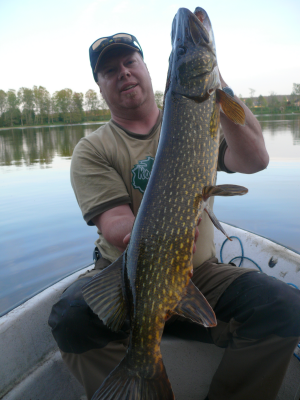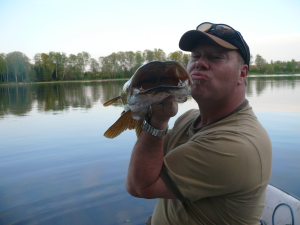 Aren't there some similarities?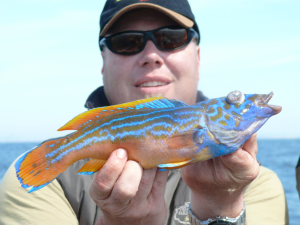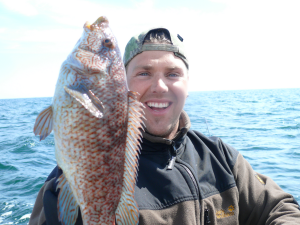 Day 3: A day-trip to the sea, resulting in 7 different species
Among these some more unusual and coloured Ballan wrasses.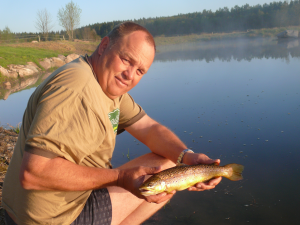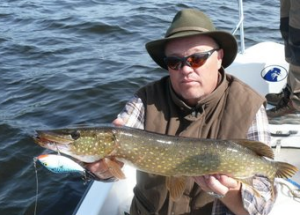 Right, Dieter was with us as well. But this time he just was looking for some small fishes.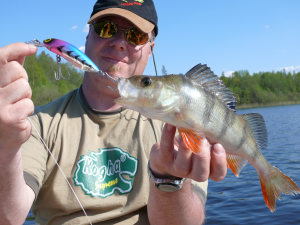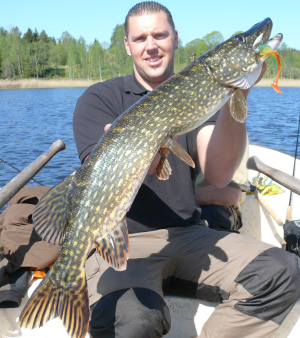 Oooops a perch as well! And even at the fourth day some small pikes!
All together we landed about 90 pikes between 75 and 116 cm during these days.
All pikes were released again (C&R) so even others can enjoy these.
2008-05-01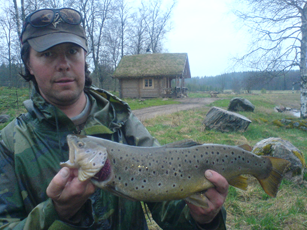 Johan Johansson, Fristad with a trout, 1,6 kg,
caught close to Holmens Gård, Ulricehamn.
2007-10-30 - 2007-10-31
Wunderschön!
There was no missing of enthusiasm when the German
test fishing group from Mecklenburg-Vorpommern was
out fishing in the small lakes around Roasjö. The
group was invited to Sjuhärad to test our fishing
possibilities in Sjuhärad and to give us feedback.
Read the newspaper article about the visit
här
. (In German)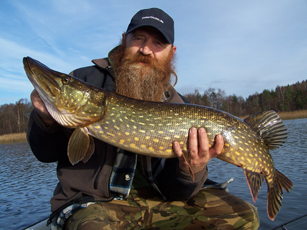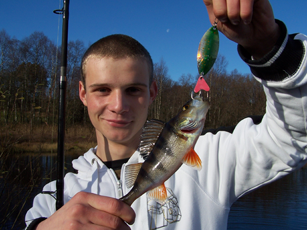 Peter Rinow, Sportfishing Assocciation Mecklenburg- Even Hannes from Rehna, Germany got a little
Vorpommern, Rostock, Germany. perch in Lake Ramnasjön.
First fishing stop Lake Ramnasjön, pike, 95 cm (C&R).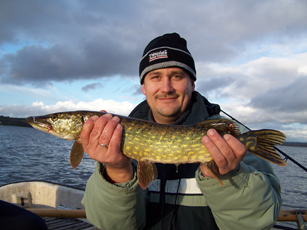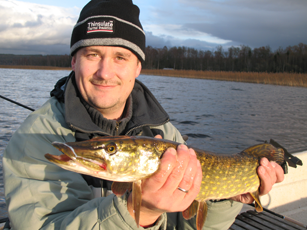 Thomas Barsch, Rehna, Germany
with some smaller pikes (C&R) from Lake Åsunden.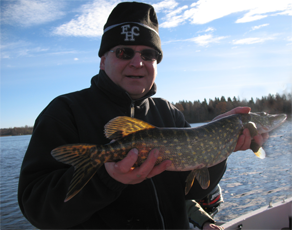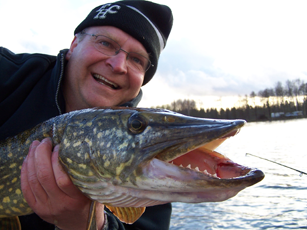 Uwe Seemann, Rehna, Germany Uwe, keep smiling! Pike (C&R), 82 cm from Lake Åsunden.
Pike (C&R), 80 cm from Lake Åsunden.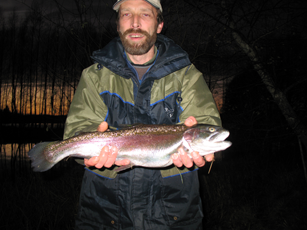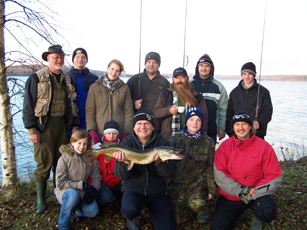 Frank Bielau, sportfishing organisation "Schneller Hecht", The "gang" with fishing guide Enar Hemmings (on the left),
Mecklenburg-Vorpommern, Schönberg, Germany. Nordhagens Fishingcamp and Sassi Wemmer (on the right)
Rainbow trout (C&R) 59 cm, from Nordhagen Fishingcamp. from Sassis resor 7-Härad.
2007-08-24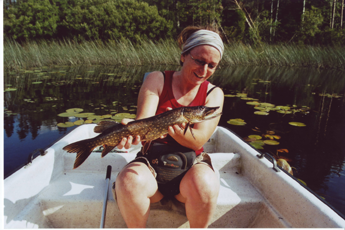 Susanne Lindemeyer, Oberriexingen, Germany
Pike caught in the river Jälmån.
2007-08-19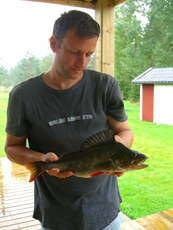 Thorsten Lindemeyer, Oberriexingen, Germany
A perch from the Lake Lagmannshagasjön.
2007-07-07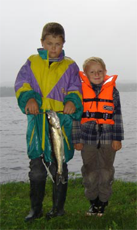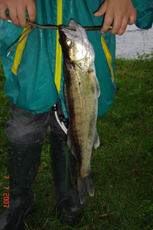 Marcus and Sebastian with a pike-perch from Lake Åsunden.