Marknadsplats 7-Härad ek. för.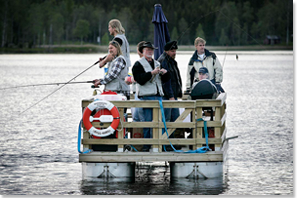 Photo: Anders Ylander, BT, 2007
Marknadsplats 7-Härad is an economic association. The current members are entrepreneurs within the Sjuhärad region working in angling tourism. Co-operative principles comprise the established ethical value base for the enterprise.
* Marknadsplats 7-Härad aims at developing tourism as well as related activities and products.
* The association will focus on organising different marketing and sales activities, products and business development, as well as activities of different kinds in order to contribute to a high turnover and sales among its members.
* The association will work towards the continual development of skills and member consultancy, in order to promote high quality standards within the association's and members' business operations.
* The association's activities should be based on an ecological and ethically sustainable approach.